---
Main content
Top content
Technology and Innovation Management
Welcome to the homepage of the chair for technology and innovation management led by supernumerary Professor Piet Hausberg, PhD. You can find further information on the chair holder in the section Profile and a brief outline of the research focus in the section Research. In the section Teaching students can find information on current and future courses and seminars as well as on how to apply for supervision of bachelor and master theses and a list of possible topics. The section Contact provides inter alia information on how to arrive at the chair.
News
14. November 2019

:

New Paper on Trust Formation in Crowdfunding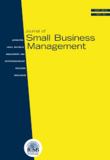 In their paper now published online in the Journal of Small Business Management (JSBM), Krystallia Moysidou (Warwick Business School) and Piet Hausberg investigate the formation of online trust...
03. December 2018

:

New publication in the Int. Journal of Innovation Management (IJIM)
A new publication by Piet Hausberg and Peter S. H. Leeflang (University Groningen/NL and Aston Business School/UK) is forthcoming in the International Journal of Innovation Management (IJIM).